Garage Door Repair Greenbrier TN
Residential & Commercial — Since 2005
We're Available 24 Hours A Day, 7 Days A Week!
Call Us Or Fill Out The Form, And We'll Come Take A Look


From simple Garage Door repairs, to custom dream garages & more
Rose Quality Garage Doors provides garage door repair & garage door installations in Greenbrier.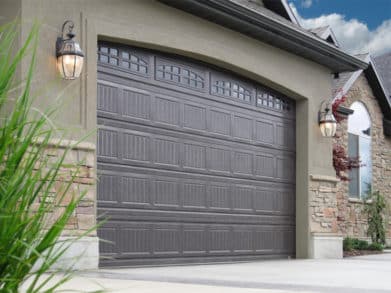 24 HOUR EMERGENCY SERVICE — Call Rose Quality Garage Doors Anytime, Day Or Night!
GARAGE DOOR SPRING REPAIR
Chances are, if one is broken, the other is probably in need of replacement.
ROSE QUALITY GARAGE DOORS IS A LOCALLY OWNED AND OPERATED BUSINESS
Proudly Serving Greenbrier since 2005
If you're looking for the most experienced and best garage door repair company in Greenbrier, you've come to the right place!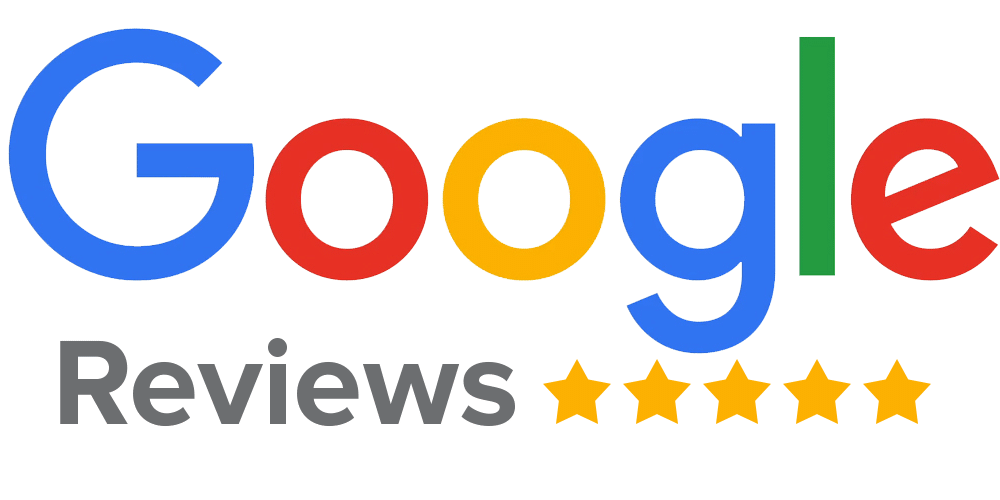 Don't take our word for it.
Customers of Rose Quality Garage Doors know we provide excellent service, fair prices, and a satisfaction guarantee.
Really.
We don't ask questions. We just want to make sure you're happy, and that the job is done right.
We know when we provide great service, you'll tell your friends and family about us, and that's how we stay in business.
Our average is 4.7 stars.
(Because some people really like our doors, but we didn't provide them with a complimentary slice of pie, so they're like, "Oh, it was a great garage door install, but I didn't get a slice of pie, so it's just 4 stars." )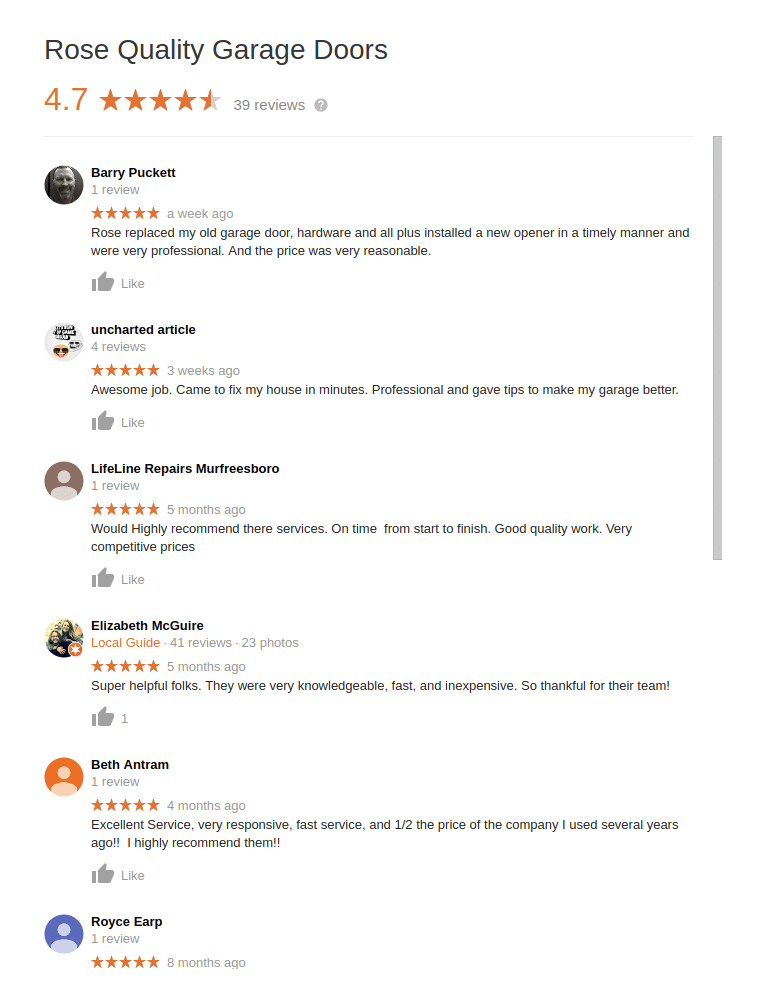 Best Garage Door Installation and Repair in Greenbrier TN
Are you shopping around for a company to assist you with a garage door repair, replacement, or installation in Greenbrier TN? 
If so, you've come to the right place! Give us a call at (615) 560-8966 today to set up a consultation or an estimate. We're standing by to take your calls, answer your questions, and provide you with the most exceptional garage door services in Greenbrier!
Don't Just Believe Us—Believe Our Rose Quality Garage Doors Greenbrier TN Customers!
Naturally, we think we're the best, but you don't have to take our word for it. 
We have a sterling reputation, and you can read the stellar reviews left by our customers throughout the region as proof! You see, our philosophy isn't based on just trying to make a quick buck. On the contrary, it's our goal to have you as a customer for life. 
That means that instead of focusing on cutting corners or nickel and diming you, we try to provide you with exceptional service at an affordable price, so that Rose Quality Garage Doors is the first name that comes to mind when you need garage door repair Greenbrier TN can trust. 
Emergency Garage Door Repair Greenbrier TN
We're on Call 24 Hours a Day, 7 Days a Week for Emergencies In Greenbrier
Having a garage door stuck open or closed, or operating in an unsafe or inconvenient way, can be a major disruption. Whether you need an emergency repair or replacement to keep your home safe and secure, or you rely on your garage doors working flawlessly so that the flow of your business isn't disrupted, we're here to help.
We know that your safety, security, and business can't wait—which is why our technicians are always on call to give you a hand when you need it. Just pick up the phone and call (615) 560-8966 and let us know what's going on! We'll assess the situation by asking you questions about the malfunction or damage to the door, and then we'll dispatch a team to ensure that you get the repair or replacement you need, fast. 
Proud to Serve Greenbrier TN
There's plenty of places where a garage door installation and repair company can thrive—and we couldn't be happier with Greenbrier TN. Our dedication and commitment to good service have allowed us to build relationships here—not only with our customers, but with the Greenbrier community as a whole. 
You can see these relationships reflected in the excellent reviews our customers leave us, and in our own commitment to exceeding our customer's expectations. We aren't just a business in Greenbrier TN. We're truly a part of the Greenbrier TN community, and we love being a preferred garage door repair company in Greenbrier for our neighbors!
Garage Door Installation Greenbrier TN
Choosing the right garage door for your needs is extremely important. Garage doors undergo quite a bit of stress by necessity, and they also are exposed to the elements. That's why it's so vital that you choose the right door for your use case in order to ensure its longevity and hassle-free performance. 
Our garage door installation experts can help you evaluate your needs and budget and discuss the various options available that will provide you with a garage door you can depend on. In addition to choosing the right door, having a team of highly trained, experienced professionals install your door is also very important—like the professionals at Rose Quality Garage Doors.
Garage Door Replacement Greenbrier TN
There are times when a garage door has simply undergone so much use and wear and tear over time that it's advisable to replace the door rather than repair it. It can also be advisable to replace a garage door simply because it's out of date. Innovations in safety features and engineering mean that today's modern garage doors are safer and perform better than their aging counterparts.
If you're not certain whether or not your door needs a repair or should be replaced, give us a call at (615) 560-8966. We'll be happy to do an assessment so that we can offer you an unbiased, professional opinion on what the next best move for your garage door is. 
Garage Door Repair Greenbrier TN
Even a high quality garage door that's used responsibly may have the need for a repair from time to time. If your garage door isn't working properly, or you've noticed some damage to it, call (615) 560-8966 today! Our technicians are the best in the industry, and will be happy to give you an estimate for your garage door repair. 
We make sure that our teams stay up to date on garage door repair techniques and have the best tools for the job.  If you're considering repairing your garage door on your own, understand that the professionals who do these jobs have extensive training to ensure that they don't hurt themselves or cause further damage to the door. While there are many things you can DIY to save a few pennies, garage door repair shouldn't be one of them. 
Residential Garage Door Repair Greenbrier TN
Whether you need a garage door installed on a newly built garage or you need a torsion spring replaced on an already-installed door, Rose Quality Garage Doors is here to help! Not all garage door repair companies specialize in both residential and commercial garage doors—but we do! 
You'll have every assurance that your installation, replacement, or repair is up to snuff, and we'll get the job done in a jiffy. Keeping your home safe and secure is important not only for your belongings, but for your peace of mind. We can help. Call today!
Commercial Garage Door Repair Greenbrier TN
Commercial garage doors require specialized knowledge to install, repair, and replace, and you can trust the experts at Rose Quality Garage Doors to be up to date on that knowledge. We train every technician extensively in commercial garage door repair, the various types of opening mechanisms, and on all of the latest equipment and tools so that when you call us for your commercial garage door job, you get the best products and performance in the industry. 
A malfunctioning garage door can be a real problem for a busy business. Our success depends on our ability to help our customers be successful, so you can rest assured that you'll be getting the fast, friendly, and professional service you need to keep business booming.
Choose a Company You Can Trust
There are plenty of companies and contractors out there that make claims about what they can and can't do for their customers, but talk is cheap. You know you can rely on Rose Quality Garage Doors—our reputation is spotless. That's because we are committed to being a reliable, trustworthy garage door installation and repair company that Greenbrier TN can be proud of.
Our technicians are properly trained, licensed, and insured, so you don't have to concern yourself with liability issues. From clean, quick, correct installations to efficient, affordable repairs, we do it all and we do it well! 
There may be contractors who offer cheaper services, but we assure you that when it comes to garage door services, you really get what you pay for.  This is not a service that you want the company cutting corners with. 
We'll make every effort so that our services are affordable, without cutting corners. We use only highly rated, high quality products that enhance the safety and security of your garage while providing you with optimum garage door performance. 
Garage Door Installation, Repair, and Replacement Can be Dangerous: Trust in the Professionals
While a garage door may not seem like the most complicated piece of equipment, it is in fact a very specialized piece of equipment. It has to endure constant use, hundreds of pounds of pressure, and exposure to wind, rain, heat, and cold year round. 
Furthermore, there are numerous parts of a garage door that can be very dangerous when not being handled by professionals. The doors themselves are very heavy and can cause serious injuries or even fatalities if they fall due to incorrect installation or failed repairs. 
Furthermore, one of the most important components of any garage door is its springs. These springs are responsible for safely raising and lowering the door. These springs can also be extremely dangerous when handled by non-professionals, as they can snap and drop the door or cause severe injuries anyone nearby. 
Our technicians have the training, knowledge, and experience to provide you with top service safely. If you are considering a do-it-yourself repair, we strongly urge you to reconsider. Call (615) 560-8966 today; a professional repair or service is likely much more affordable than you think. 
Any Garage Door Job—Large or Small!
Garage door maintenance and repair jobs come in all sizes, and Rose Quality Garage Doors is fully prepared to give you a hand with all of them! Our staff is knowledgeable and customer service oriented, so please don't hesitate to give us a call today.  Even if you're not sure what you need yet—or if you even require anything right now—we'd be happy to discuss options with you and answer any questions you have. 
What Rose Quality Garage Doors Offers In Greenbrier

Springs, openers, door fixes, door replacement, installation – whatever you need when it comes to garage doors.

Detached garages to complex six car collector garages. We serve every residence size and need.

Commercial garage doors are a lot larger and heavier which requires attention to detail that is best left to the professionals.
GET FAST, 24 HOUR SERVICE
Our friendly staff does a quick phone consultation, and then we find a convenient time for us to visit your location.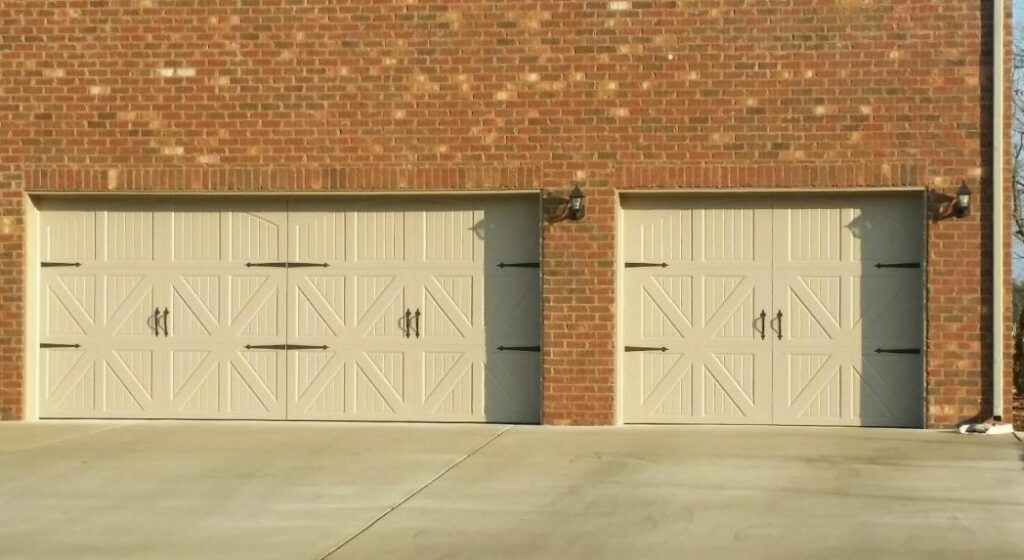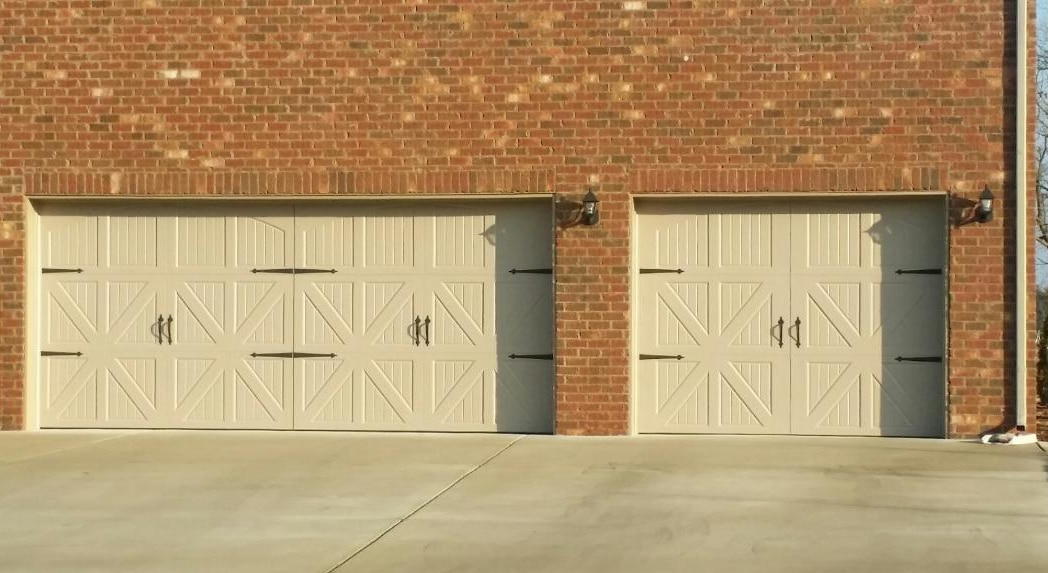 CUSTOM RESIDENTIAL GARAGE DOOR INSTALLATIONS
Whether you're building your dream home, or you're a contractor working on a new build, you want a quality garage door that works reliably, when you need it.
COMMERCIAL JOBS OF ANY SIZE
Commercial doors require a more experience and expertise with safe handling. We guarantee our work to be fast, efficient, and done the right way. Whether it's a commercial garage door torsion spring, commercial garage door out of tracks or any other repair – we are Middle Tennessee's preferred commercial garage door service.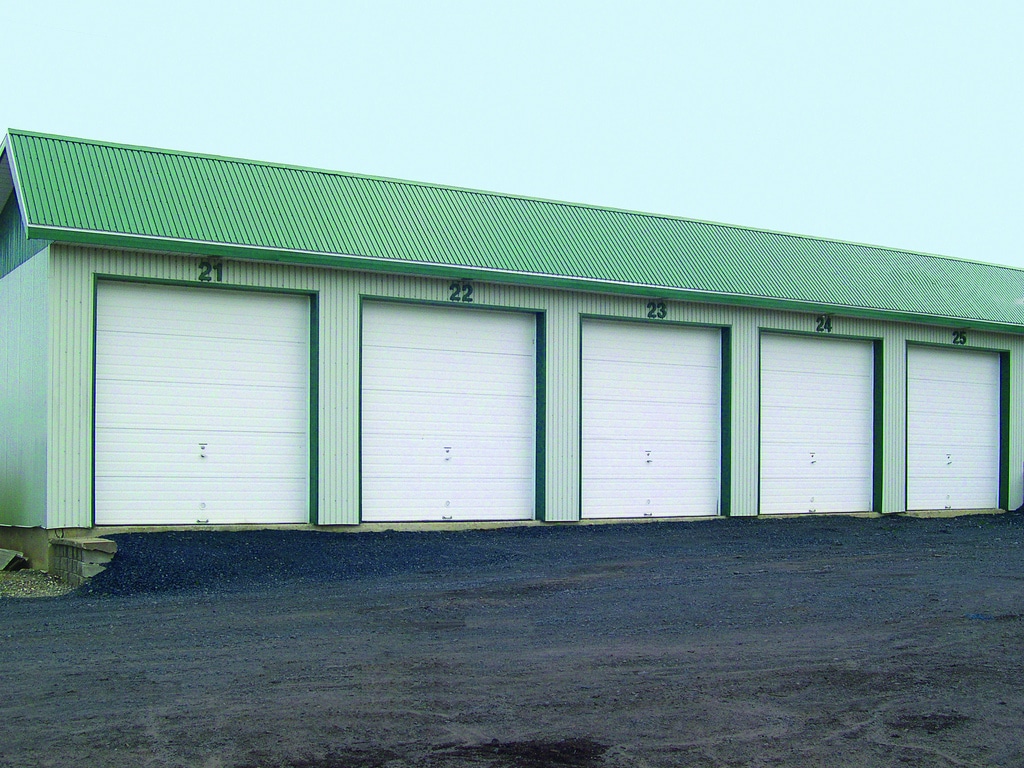 Rose Quality Garage Doors serves 15 counties in Middle Tennessee, but don't worry, if you don't see your county listed, we can still help! Give us a call today at (615) 560-8966, and we'd be happy to come serve you and your family with all of your garage door needs!
Cheatham County
Robertson County
Dickson County
Cannon County
Davidson County
Montgomery County
Smith County
Trousdale County
Rutherford County
Williamson County
Wilson County
Sumner County
Marshall County
Bedford County
Maury County