Garage Door Repair & Installation In Knoxville

Over 14 Years Serving Knoxville TN
24/7 Residential & Commercial
Garage Door Services
From Simple Garage Door Repairs to Truly Custom Garage Doors
We know experience in all things garage doors matters. Since 2005, it's been our mission to serve Tennessee with garage door repair and installation crews ready in Knoxville. We offer honest, service-first quality garage door repair and garage door installation services. We look forward to earning your business. 
24 HOUR EMERGENCY SERVICE — Call Rose Quality Garage Doors Anytime, Day Or Night!
GARAGE DOOR REPAIR & INSTALLATION KNOXVILLE, TN
Specials & Financing Options Available
We understand times are tough, and aim to work fairly together to help.
ROSE QUALITY GARAGE DOORS IS A LOCALLY OWNED AND OPERATED BUSINESS
Proudly Serving Knoxville since 2005
If you're looking for the most experienced and best garage door repair company in Knoxville, you've come to the right place!
Best Garage Door Installation and Repair in Knoxville TN
Looking for garage door repair in Knoxville, TN? Rose Quality Garage Doors is your company! We offer a wide range of garage door repair services and have the experience and expertise to do an outstanding job. 
Our team is dedicated to providing high-quality garage door repair services that are reliable and affordable. We understand that your garage door is an essential part of your home, so we always work hard to make sure that it is repaired properly and promptly.
We've Got You Covered!
Garage doors are our specialty, and we are committed to providing the best garage door repair in Knoxville, TN. Regardless of the garage door, you have, or what kind of repair you need, we will be able to help. We offer everything from spring repair to garage door insulation in Knox County.
Rose Quality Garage Doors can take care of any garage door-related issues, whether you're dealing with a brand-new garage or an urgent repair on an existing one. We specialize in residential garage repair, so we understand exactly what your garage door needs.
When it comes to commercial garage repair, we are the experts! Garage doors, in general, need maintenance and specific expertise, but commercial garage doors have additional requirements. You don't want a poor job to result in higher costs or business interruption. We can quickly, easily, and properly address your commercial garage door concerns because we have the training and experience.
Hiring Our Services Is Your Best Bet
There are many reasons why you should hire our garage door repair services, including:
Professionalism: At Rose Quality Garage Doors, we are a team of highly-skilled and experienced garage door repair specialists. We always put our customers first and go above and beyond to ensure they're satisfied with our work.
Convenience: We know your time is valuable, so we offer convenient scheduling options for our garage door repair services. We also offer same-day and emergency services, so you can get your garage door repair needs taken care of as soon as possible.
Affordability: We truly believe that everyone should have access to high-quality garage door repair services, which is why we provide competitive rates for our services. We also offer different discounts and specials, so be sure to ask about those when you call us. 
Rose Quality Garage Doors In Knoxville, TN, Is The Company You Need!
Stop looking for "garage door repair near me." If you need professional garage builders in Knoxville, TN, Rose Quality Garage Doors is here to help. We're a family-owned and operated garage door repair company servicing the Knoxville area for many years.
As one of the best garage door companies in Knoxville, TN, we offer a range of garage door repair services, including garage door replacement, door opener repair, and garage door installation in Knoxville, TN. So you can stop searching for "garage door installations near me" and contact us!
We also provide emergency garage door repair services 24/7. Get a free estimate today.
What Rose Quality Garage Doors Offers In Knoxville

Springs, openers, door fixes, door replacement, installation – whatever you need when it comes to garage doors.

Detached garages to complex six car collector garages. We serve every residence size and need.

Commercial garage doors are a lot larger and heavier which requires attention to detail that is best left to the professionals.
GET FAST, 24 HOUR SERVICE
Our friendly staff does a quick phone consultation, and then we find a convenient time for us to visit your location.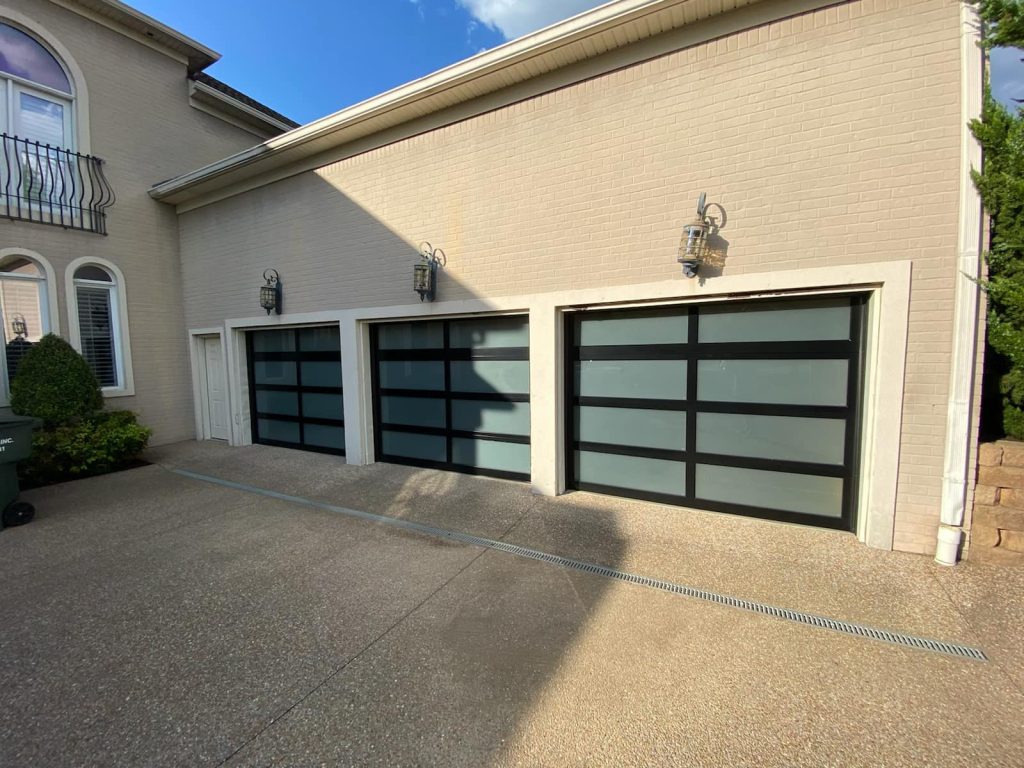 CUSTOM RESIDENTIAL GARAGE DOOR INSTALLATIONS
Whether you're building your dream home, or you're a contractor working on a new build, you want a quality garage door that works reliably, when you need it.
COMMERCIAL JOBS OF ANY SIZE
Commercial doors require a more experience and expertise with safe handling. We guarantee our work to be fast, efficient, and done the right way. Whether it's a commercial garage door torsion spring, commercial garage door out of tracks or any other repair – we are Middle Tennessee's preferred commercial garage door service.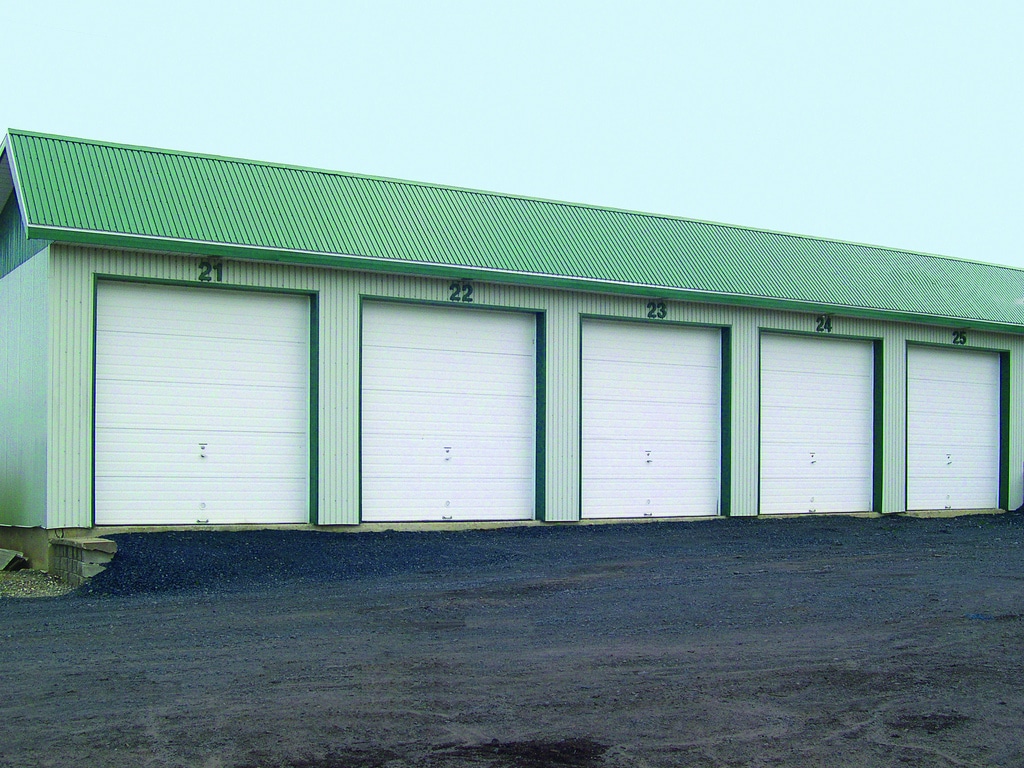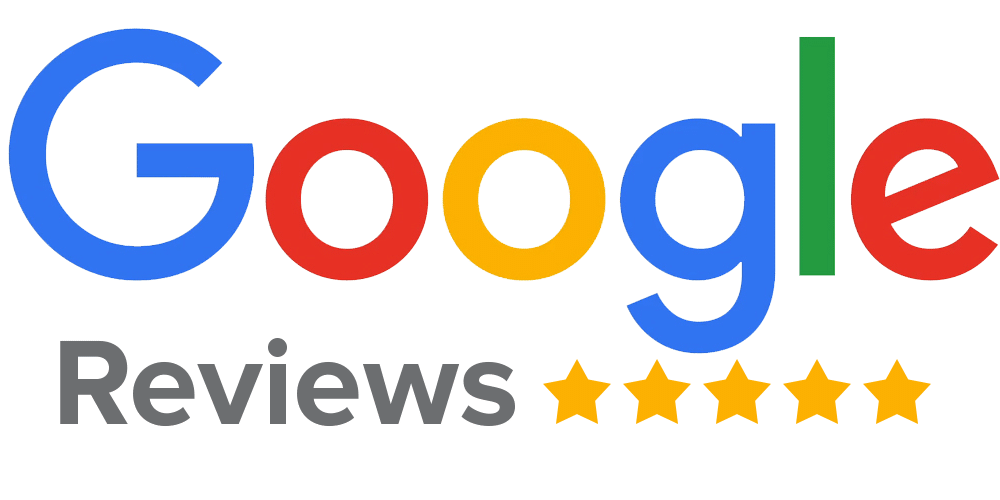 Don't take our word for it.
Customers of Rose Quality Garage Doors know we provide excellent service, fair prices, and a satisfaction guarantee.
Really.
We don't ask questions. We just want to make sure you're happy, and that the job is done right.
We know when we provide great service, you'll tell your friends and family about us, and that's how we stay in business.
Our average is 4.7 stars.
(Because some people really like our doors, but we didn't provide them with a complimentary slice of pie, so they're like, "Oh, it was a great garage door install, but I didn't get a slice of pie, so it's just 4 stars." )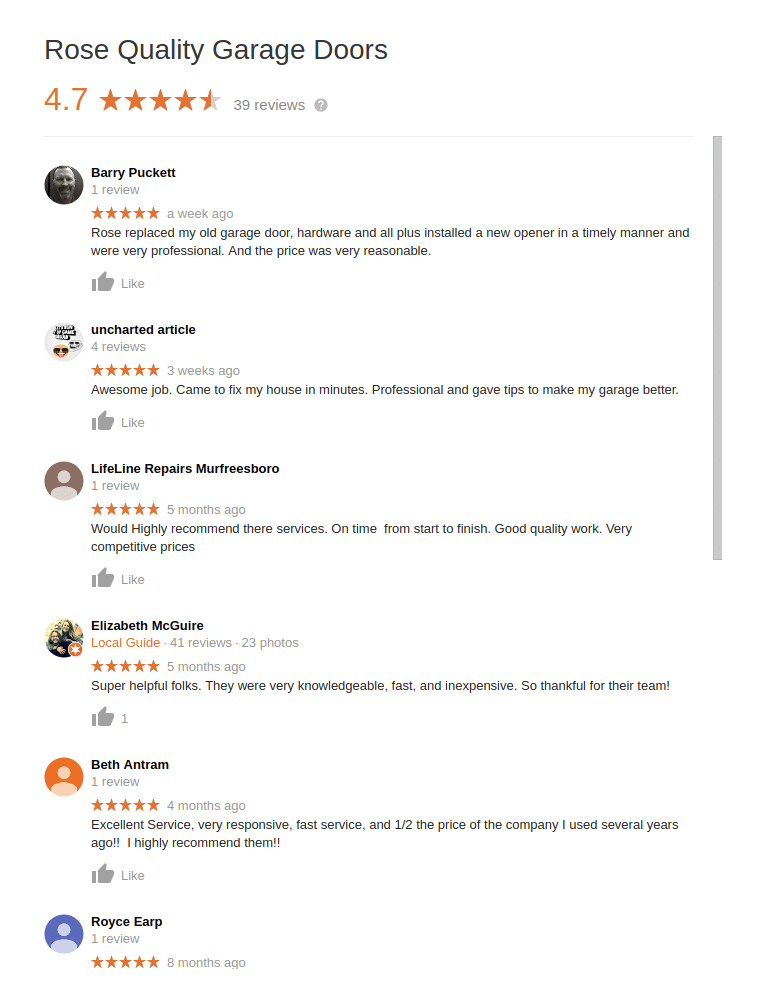 Rose Quality Garage Doors serves 15 counties in Middle Tennessee, but don't worry, if you don't see your county listed, we can still help! Give us a call today at (615) 560-8966, and we'd be happy to come serve you and your family with all of your garage door needs!