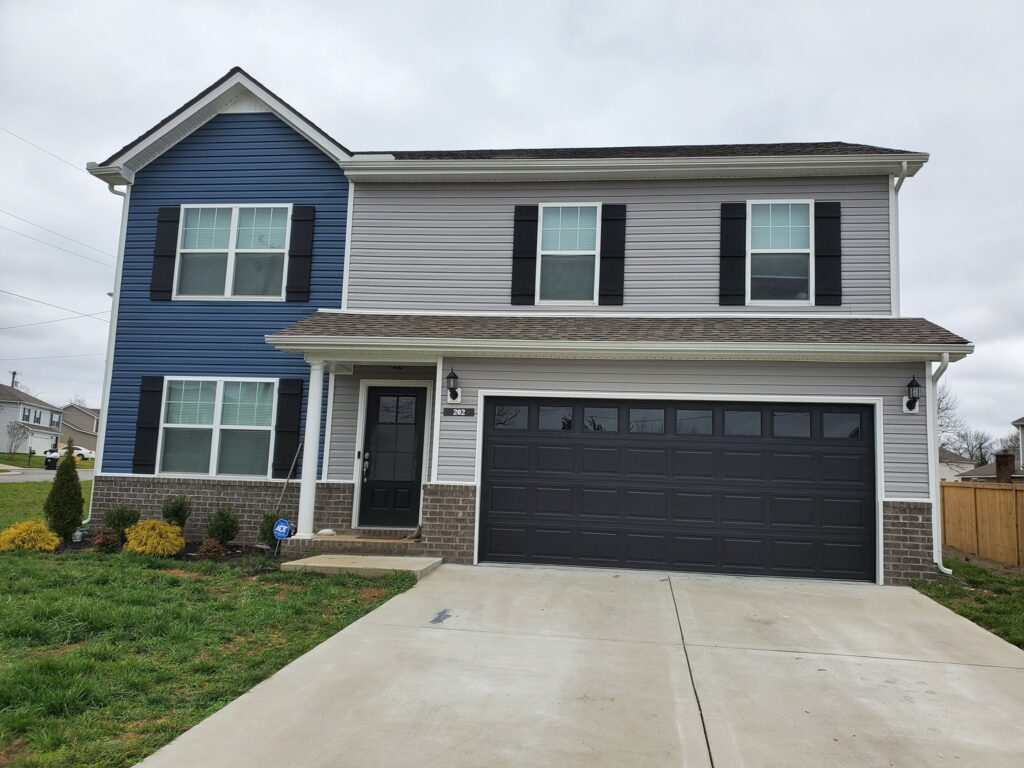 Whether you have an old and dingy garage door, or a more modern one that you take pride in, we here at Rose Quality Garage Doors confidently offer the best garage door repair / installation in Murfreesboro. Ever since 2005, we have been proudly serving the greater Murfreesboro area and it's wonderful residents. We are available all day, every week for any time that you may find yourself needing assistance. 
If you enlist upon the services of Rose Quality Garage Doors, there is essentially a promise of quality and authenticity that comes with it. We have been trusted by many homeowners in Murfreesboro, and have left them very satisfied with the look of their new or repaired garage door. No matter what type of garage door you have, we can repair it! Repairing is one of our strong suits, as we are also known for the best available garage door installation in Murfreesboro. Repairing or installing a new garage door can have loads of benefits, such as increased appearance and home value. 
We offer an excess of different services, each of which we have professionals and competent workers to carry out the tasks needed. As per our customer reviews, many have been left happy with both the quality and appearance of their recent garage door repair or installation. 
24/7 Service
At any time, any problem or issue with your garage door could arise. Not having your garage door properly working can lead to a bunch of issues, such as critters getting in, loss of heat within the home, as well as outside elements that could wreak havoc on the interior of your garage. With Rose Quality Garage Doors, a 24/7 garage door repair company, you can rest assured that we will be there at any time, of any day of the week to pick up the phone for and tend to your garage door issues as best as we can. 
It is an abrupt distraction and problem to deal with when your garage door happens to be acting faulty, or not working at all, and it would be wisest to tend to the problem as soon as possible. At any time, give us a call, and we'll send a team to your location as fast as possible to have the issue checked out.
Garage Door Spring Repair
Garage door springs are perhaps the most important aspect of your garage door, and relate heavily to how well the garage is operating. Commonly, garage doors can vary a lot in both height and weight, even when it comes down to a few inches or pounds. Regardless, these different types of garage doors need the correct springs installed in order for the garage door to work as efficiently as possible. 
Sometimes, wrong springs are installed on your garage door by the initial garage door installation company, and this can lead to functioning issues. With the wrong springs, your garage doors engine will have to be working much harder than it normally would, and this can drastically reduce the life expectancy of both the springs and engine. If you believe your garage door springs 
Garage Door Extension Spring Repair
On your garage door, you will find springs that happen to be located on the horizontal slides of the tracks. These springs main function is to lower the door as carefully and efficiently as possible. Over time, your extension springs can begin to wear out, and this is where you may notice that your garage door is closing a bit harder than normal. 
If you believe this happens to be the case. Give us a call, or fill out a form, and we will get to you as soon as possible to have your extension springs replaced. These springs can be very dangerous to replace, so it would not be recommended to try this yourself by any means. Having the best garage door spring repair company in Murfreesboro right at your disposal is a great advantage to have. 
Garage Door Opener
As one of the more common problems that we seem to fix more than often, your garage door opener itself may happen to need replacing after some years of use, or perhaps after a malfunction. One of the most important aspects of your garage door is its safety features, seeing that it is a large entrance to your home, and should be secured with confidence to ensure peace of mind. 
Many of the more modern types of garage door openers grant you the ability to connect and control your garage door and its lights through smartphone technology. If you happen to need a new one, instead of just repairing, we can get you some of the best garage door openers available!
Garage Door Torsion Spring Replacement
Torsion springs are important in that their main function is to take on the pressure transferred to them as the garage door opens and the spring unwinds, which allows for ease of operation for your garage door. With smaller garage doors, only one may be necessary, but for larger garage doors, several may be necessary. 
If your garage door's torsion spring(s) happen to be faulty or broken, a ton of safety hazards can arise, seeing that the garage door can now fall unexpectedly and cause injury. This is a very dangerous replacement job, so don't try it yourself for your own sake, and give the best garage door company in Murfreesboro a call. 
Garage Door Installation
Contrary to many garage door repairs, a garage door installation happens to be a multiple-step process. We install garage doors fast and efficiently, although it may take longer than most repairs at times. To help aid you in your decision-making, we offer a free estimate in which we will come out and measure your garage door area for the perfect garage door that will be just right for you and your home. Each garage door can vary in size and appearance, so we will make sure to work with you as closely as possible to bring you a cost-effective, beautiful looking garage door. 
Garage Door Replacement
If it wasn't already obvious by now, we can easily and professionally replace any garage door that you would need! Sometimes, issues may not arise immediately, but there could be ongoing problems that are mounting on top of one another, leading you to a garage door catastrophe. With a garage door replacement from Rose Quality Garage Doors, you can rest assured that every safety and quality assurance measure is being taken during the installation of your garage door replacement. 
Commercial Garage Door Services
Perhaps it isn't a home that you need a garage door replaced or repaired at, but it's actually at your place of work, or business. If this is the case, then no problem! We can easily take care of any issues that may be arising from your commercial garage door. Just like at a home, the garage door to a business is often one of the largest entrances to the building, so it would be wise to ensure that the garage door is working properly, and secured from outside interest. 
Just as we offer our services for homeowners, we offer these same services to those who need their commercial garage door fixed. These services include same day service, cable repair, spring repair, opener repair, hoist repair, rolling steel door repair / replacement, and much more!
We can confidently say there isn't a single repair out there that we haven't dealt with, so we know that we can fix any issue you may be currently having. Here at Rose Quality Garage Doors, we proudly partner with many top brands within the industry, to help ensure that we are bringing quality parts and installation to the people of Murfreesboro.
We understand that commercial garage doors may often have to endure rough environments and constant use, so every repair or installation will be taken care of with diligence and quality assurance. 
Some Benefits Of A New Garage Door
Having a new garage door has tons of benefits to it. Aside from enhancing the overall look of your home, your new garage door can;
Increase Home Value
Reduce Heating / Cooling Costs
Improved Security
Reduction In Maintenance Needed
Give Us A Call, And Lets Get Started!
Whether you happen to just need a simple repair on your garage door, or you need a new one entirely, it would be best to give the best garage door company in Murfreesboro a call at any time, so we can send out a team of professionals to your location as soon as possible. Having a working and effective garage door can mean a whole lot for a lot of reasons, such as improved appearance, value and security. Whenever you come across an issue, or are looking to have a new garage door installed entirely, don't hesitate to give Rose Quality Garage Doors a call at (615)-410-2046, and you'll experience great service from a highly respected and reputable garage door company here in Murfreesboro.